CB2-BG21
CNTD Electric Technology Co., Ltd. is one of the toppest CB2-BG21 in China.During these years of exporting , CNTD Electric Technology Co., Ltd. now has rich experience in the worldwide markets
Features
LED Specifications
Specifications
■ This series of products, the button head and the middle seat are connected by multi-point clamping, in-line fixed installation, impact resistance, drop resistance, vibration resistance, suitable for use in various harsh environments.
■ It is composed of button head, middle seat and contact seat.
■ It adopts advanced selflocking connection without fasteners, which is safe and reliable. It is efficient and quick to disassemble and assemble. It can be directly installed on the middle 22mm installation panel without adding any accessories. The installation wrench is more sturdy and reliable.
■ High-quality engineering flame-retardant materials are used, with good insulation performance and reliable contact.
■ Products comply with IEC60947-5-1, GB/T14048.5 and other standards.
■ The contact element is a flat-pressed slow-action structure; it can meet the requirements of a variety of specific control circuits. Mounting Aperture: 022mm
■ Function: self-reset button, self-locking button, illuminated button, knob, key button, emergency stop button, mushroom head button, double-position button, etc.
Switch Ratings
Ui Rated insulation voltage Ui

600V

Ith Rated thermal current Ith

10A

Ue Rated operational voltage Ue

24V

48V

110V

220V

380V

Rated operational current

AC
50/60Hz

Resistive load

10A

-

10A

6A

-

Inductive load

10A

-

6A

3A

2A

DC

Resistive load

8A

4A

2.2A

1.1A

-

Inductive load

4A

2A

1.2A

0.6A

-

Contact material

Silver alloy
Minimum applicable load: 3VAC.DC 5mA(Reference value)
(The applicable range depends on the use environment and load type)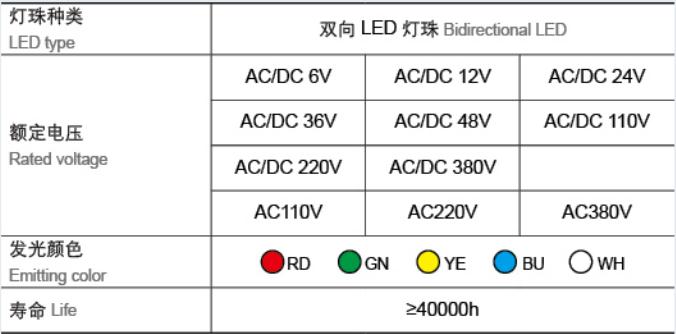 Schematic diagram of lamp holder circuit
Structure diagram
Auxiliary contact connection: up to 6 pairs of contact modules.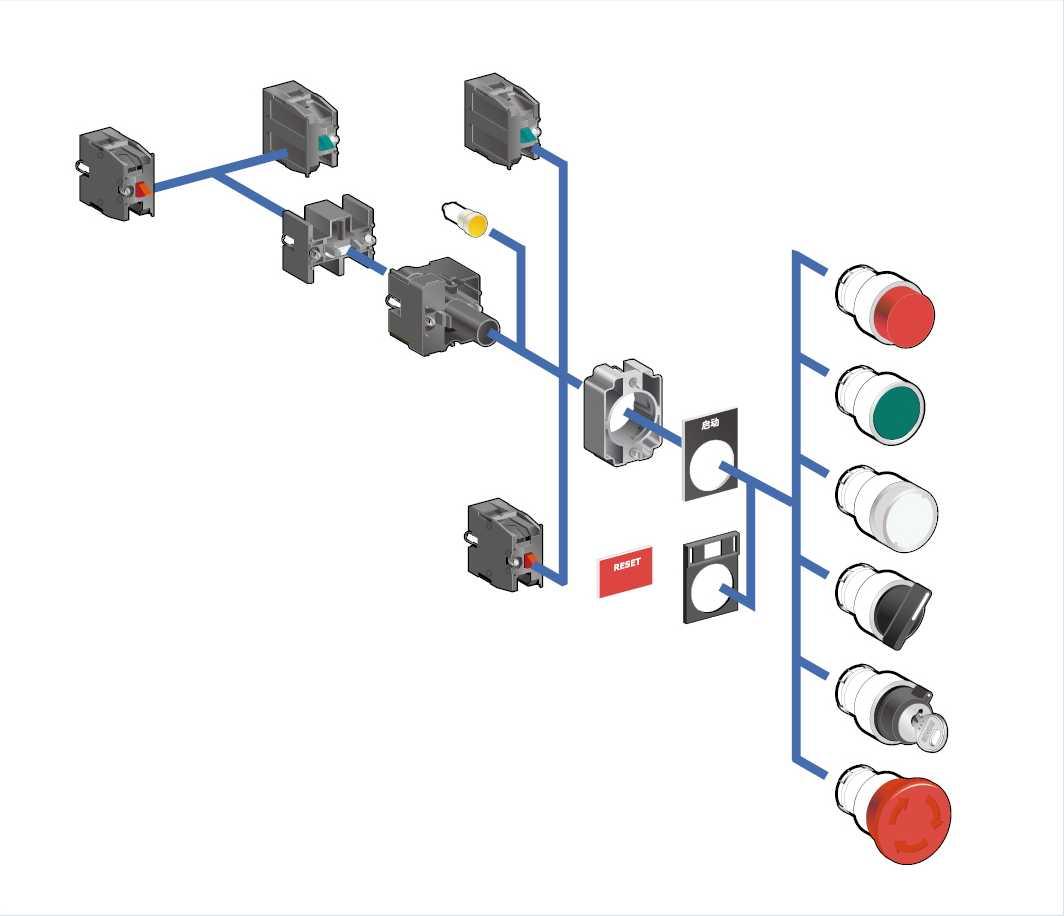 Contact Elements Notes
Contact base digital representation
"1,2" means the two terminals of the normally closed contact, "3,4" means the two terminals of the normally open contact.

Working Position And Contact State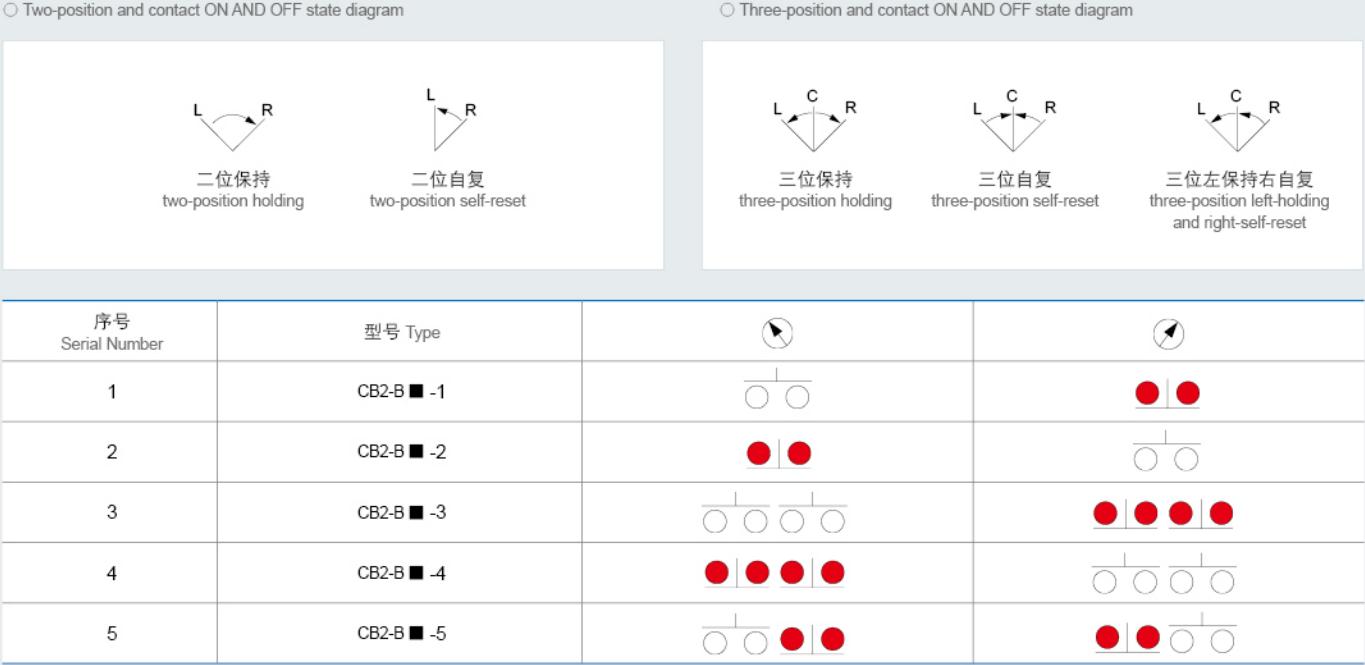 Ambient temperature

-25 c ~+75"C (With no icing)

Humidity

45~85%RH

Contact resistance

<50mQ

Insulation resistance

>100MQ

Power frequency withstand voltage

1890VAC/50Hz/60s

Vibration resistance

1.0mm/50Hz Amplitude: about 1.0mm/50Hz

Impact resistance

> 10g

Degree of protection

IP65 Except two bft senes: IP40

Electrical life

210万次

Wiring capacity







Maximum: 2x 1.5mm2 or 1 x 2.5mm2

Minimun::2 x0.75mm2

Maximum insert 6.3 x 0.8mm

Serial number

Contact type

Operation type

Color

Symbol code

Vbltagecode

Contact code




Metal

A: Self-adjusting button

White

232 black face and whfte drde

T:AC/DC6V

1:1NO

AZ: Self-locking flat button

black

334: White face black arrow

J:AC/DC12V

2:1NC

L: Self-healing button

Green

335: black face and whfte arrow

B: AC/DC24V

3:2NO

LZ: Self-locking high button

Red

336: Green-faced double white bars

C:AC/DC36V

4:2NC

W3: Self-healing button with light

Yellow

432 red face and white circle

E:AC/DC48V

5:1NO1NC

WZ3: Self-locking flat button with light

Blue




FD:AC/DC110V




C:40 mushroom head reset button







MD: AC/DC220V




CZ:40 mushroom head self-locking button







QD:AC/DC380V




R:60 mushroom head self-resetting button







F: AC110V




RZ: 60 mushroom head self-locking button







M:AC220V




T: (j»40 mushroom head push-pull button S5







Q:AC380V




S5: 4> 40 emergency stop button













S6: «}> 60 emergency stop button













D2: Two-position hold knob













D3: Three-position hold knob













D4: lvw)-position automatic reset knob













D5: three-position self-reset knob













J2: Two-position hold long knob













J3: Three hold long knob













J4: Two-position self-recovery knob













J5: Three-position setf-recovefy knob













G2: Two-position hold key button













G3: Three Hold Key Button













G6: Two-position setf-resetting key button













G7: Three-position self-resetting key button













L832: Two flat two-position buttons













L842: high and low double button













W83:Two flat buttons with lights