LA38-11MD40-Q-O
CNTD Electric Technology Co., Ltd. is one of the toppest LA38-11MD40-Q-O in China.During these years of exporting , CNTD Electric Technology Co., Ltd. now has rich experience in the worldwide markets
FEATURES
SPECIFIFICATIONS
Model Number Structure
Features
■ In this series, the button head and the middle are connected with in-line fixed installation method . It is resistant to shock、drop and vibration, and is suitable for use in harsh environments.
■ In this series, a guide rod installed in the movable leaf spring makes contacting more stable and consistent, which greatly improves electrical performance stability and life; The wiring identification plate is embedded for easy installation and hard to lose; The performance parameters of laser printing ensure longterm use without affecting recognition.
■ Composed of button head, middle and contact, adopting advanced non-fastener self-locking connection, safe and reliable, easy to assemble and disassemble, installed on the 022mm panel by using wrench without any accessories makes the installation more robust and reliable.
■ Using high-quality engineering flame-retardant materials, excellent insulation performance and reliable contact.
■ Products comply with standards such as IEC60947-5-1, GB/ T14048.5.
■ The contact elements are flat pressing and quick-acting, the contact bases (up to 4)can be combined as required and each contact base can be installed with 2 groups of contact elements,which can meet the requirements of making specific control circuits.
Installation aperture: 022mm
■ Function: self-reset pushbutton switch, self-locking pushbutton switch, illuminated pushbutton switch, Knob Switch, key switch, E-Stop pushbutton switch, mushroom pushbutton switch, stainless steel pushbutton switch, twin pushbutton switch.
■ Switch contact combination: 01/10/02/20/11/22/03/30/04/40/12/21/1 3/31
■ Degree of protection: IP40, IP65 for some customized products.

Switch Ratings
UiRated insulation voltage Ui

600V

IthRated thermal current Ith

10A

UeRated operational voltage Ue

24V

48V

110V

220V

380V

380V

le Rated operational current le

AC50/60Hz

Resistive load

10A

/

10A

6A

-

Inductive load

10A

/

6A

3A

2A

DC

Resistive load

8A

4A

2.2A

1.1A

-

Inductive load

4A

2A

1.2A

0.6A

-

Contact material

Silver alloy

Minimum applicable load: 3V AC.DC 5mA(Reference value)

(The applicable range depends on the use environment and load type)
| | |
| --- | --- |
| Ambient temperature | -25c ~+75c (With no icing) |
| Humidity | 45 〜85%RH |
| Contact resistance | <50mG |
| Insulation resistance | 21 OOM Q |
| Power frequency withstand voltage | 1890VAC/50Hz/60s |
| Vibration resistance | Amplitude: about 1.0mmZ50Hz |
| Impact resistance | > 10g |
| Degree of protection | IP40 |
| Electrical life | 210万次 |
| Wiring capacity | Maximum: 2 x 1.5mm2 or 1 x 2.5mm2, Minimun: 2 x 0.75mm2, Maximum insert 63 * 0.8mm |
LED Specifications
LED type

Bidirectional LED

Rated vottage

AC/DC 6V

AC/DC 12V

AC/DC 24V

AC/DC 36V

AC/DC 48V

AC/DC 110V

AC/DC 220V

AC/DC 380V




AC 110V

AC 220V

AC 380V

Emitting color

■rd Ogn Oye Obu Owh ・bk

Life

>40000h
Schematic diagram of lamp holder circuit

Contact Elements Notes
The terminal of the contact label is represented by 2 digits
■ The first digit "1" indicates the first pair of contacts on the first section of the element, "2" means the second pair.
■ The second digit "1、2" represents the 2 terminals of a NC contact, and "3、4" represents the 2 terminals of a NO contact.
Working Position And Contact State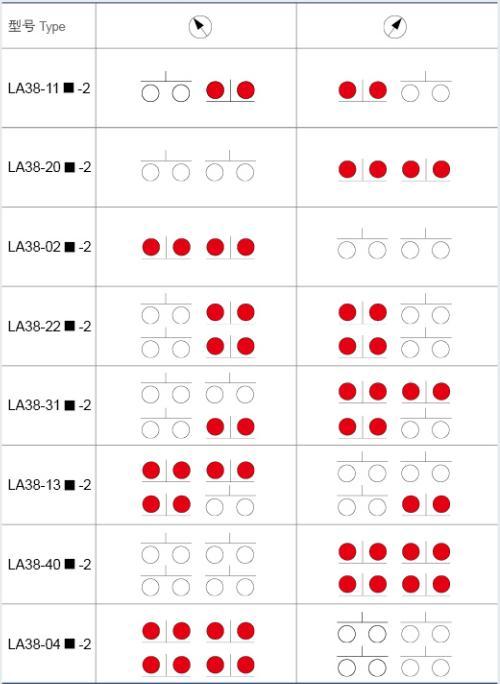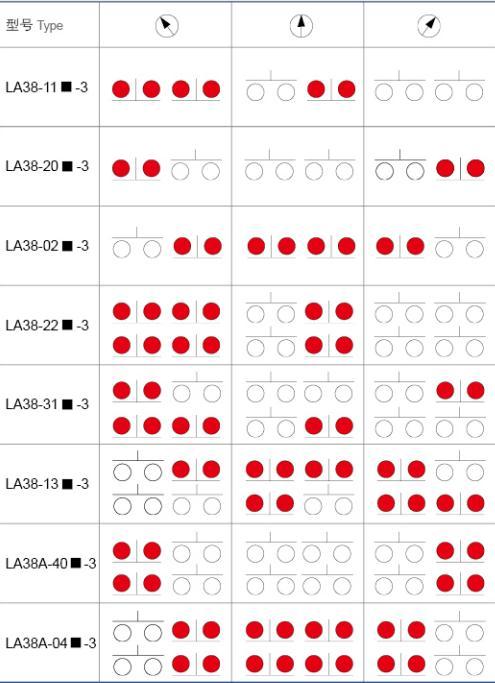 LA38-

0

■

□

-▲

-o

△

Serial number

Contact type

Operation type

Select switch position

Function

Color

Lamp voltage




01: 1NC 10: 1N0
02: 2NC
20: 2NO
11: 1NO1NC
22: 11+11
03: 02+01
30: 20+10
04: 02+02
40: 20+20
12: 11+01
21: 11+10
13: 11+02
31: 11+20
NO/NC contact combinations based on needs.

PN: Self-reset flat button
PNZS: Self-locking flat button
PND: Illuminated self-rest flat button
PNDZS: Illuminated self-locking flat button
GN: Self-reset high button
GNZS: Self-locking high button
GND: Illuminated self-reset high button
GNDZS: Illuminated self-locking high button s:
S: Stainless steel self-reset flat button
SZS: Stainless steel self-locking flat button
SD: Illuminated stainless steel self-reset flat button
SDZS: Illuminated stainless steel self-locking flat button
M40/60: Mushroom self-reset button
MZS40/60: Mushroom self-locking button
MD40/60: Illuminated mushroom self-reset button
MDZS40/60: Illuminated mushroom self-locking button
ZS40/60: E-Stop button
ZSD40/60: Illuminated E-stop button
X: Knob
XC: Long knob
XD: Illuminated knob
Y: Key button
PNSW: Twin flat pushbutton
PNDSW: Illuminated flat button
GNSW: Twin high pushbutton
GNDSW: Illuminated twin high pushbutton

21: Two-position holding type
22: Two-position self-reset type
31: Three-position holding type

32: Three-position left-holding and right-self-reset type

33: Three-position self-reset type

Q: Painted plastci head c:
C: Plastic head
L: Alumimum head
S: Stainless steel head
FH1:" i "custom code
FH2:M O" custom code
FH3:" -" custom code
FH4:" =" custom code
FH5: "START" custom code
FH6: "STOP" custom code
IP65: Custom IP65 button
K: Anti-interference illuminated button

@
For the optional colors of some types,please refer to product selection (illuminated product without black)

AC/DC 6V
AC/DC 12V
AC/DC 24V
AC/DC 36V
AC/DC 48V
AC/DC 110V
AC/DC 220V
AC/DC 380V
AC 110V
AC 220V
AC 380V