LD16-22M-BK
CNTD Electric Technology Co., Ltd. is one of the toppest LD16-22M-BK in China.During these years of exporting , CNTD Electric Technology Co., Ltd. now has rich experience in the worldwide markets
■ LD16 series of indicator light use high-brightness pure color LED light-emitting chips as the light source, with long life, low energy consumption, small size and light weight. The lampshade is made of high-strength cabonate, which has good impact resistance. The light has built-in screw-type wiring, makes it safer and more convenient.
■ LD16 series of indicator light is suitable for signal indication, advance signal, accident signal and other situations for example in electrical industries, telecommunications, machining tools, ships, textile industries, printing industries and mining machinery.
■ The product complies with standards such as IEC60947-5-1 ,GB/ T14048.5.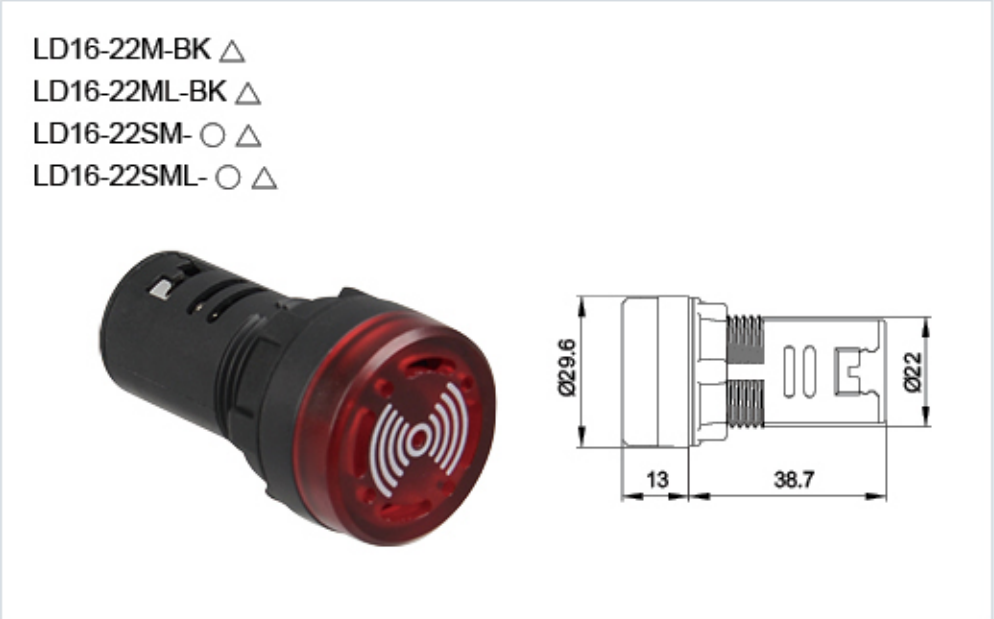 Internal Wiring
Diagram
■ The AC/DC type indicator light is a resistance step-down type, and the AC type indicator light is a capacitor step-down type.
■ When the voltage is 110V and above, the temperature of the shell of the AC/DC signal indicator will be higher than that of the AC signal indicator.
■ The use frequency of AC type signal indicator is 50-60Hz. Using in other frequency range will damage the indicator light.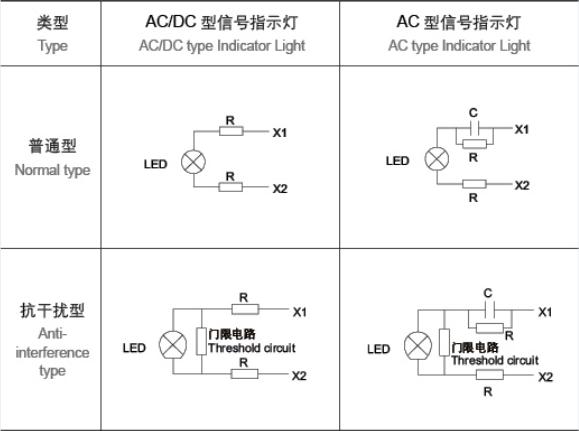 Item

Code

Description

①Serial number

LD16

Serial number

②Installation aperture

22

022mm

(3)Function code

DS

Indicator light

M

Buzzer

ML

Continuous buzzer

SM

Flash buzzer

SML

Constant bright continuous buzzer

④Auxiliary code

无

Conventional

F

Discharge lamp

K

Anti-interference voltage

FS

Waterproof Indicator Light

⑤Color

o




Black is only available for no light buzzer

⑥Lamp voltage

△

AC/DC 6V AC/DC 12V AC/DC 24V AC/DC 33V AC/DC 48V
AC/DC 110V AC/DC 220V AC/DC 380V AC 110V AC 220V AC 380V
For other special voltages .please consult the manufacturer

⑦Interference voltage

▲

24V 40V 60V 90V 110V
For other special voltages .please consult the manufacturer
| | |
| --- | --- |
| Ambient temperature | -25"C ~+75€ (with no icing) |
| Humidity | 45~85%RH |
| Continuous operational life | >40000h |
| Allow instantaneous voltage fluctuation | ±20% (above 110V) |
| Power frequency withstand voltage | 1min 25kV(AC effective value), 1min |
| Usage frequency(AC) | 50-60HZ |
| Rated operational current | AC/DC6V^40mA, the rest^25mA |
| luminance | >100cd/m2 |
| CTI Comparative tracking index | 2100, flame retardant |
| Insulation resistance | Ui<60V 为 5MQ, 60V < Ui<660V 为 50M。 5MQ while Ui^60V, 50MD while 60V < Ui^660V |
| Emitting cotor | Red/Green/Yellow/Blue/White/Black |
| Degree of protection | IP65 |